Experience the Wonders of Christchurch with Our Scooter Rental Service
Scootec is the go-to shop in Christchurch for all things moped-related. We provide our customers with new and second hand scooters, performance parts, modifications, and repairs.
We provide rental for our customers to enjoy the city of Christchurch and the amazing scenery of the surrounding areas. Our hire service includes:
50cc vehicle
Discounted Multi-Day Hire
Helmet Hire
Glove Hire
Any Car License is Acceptable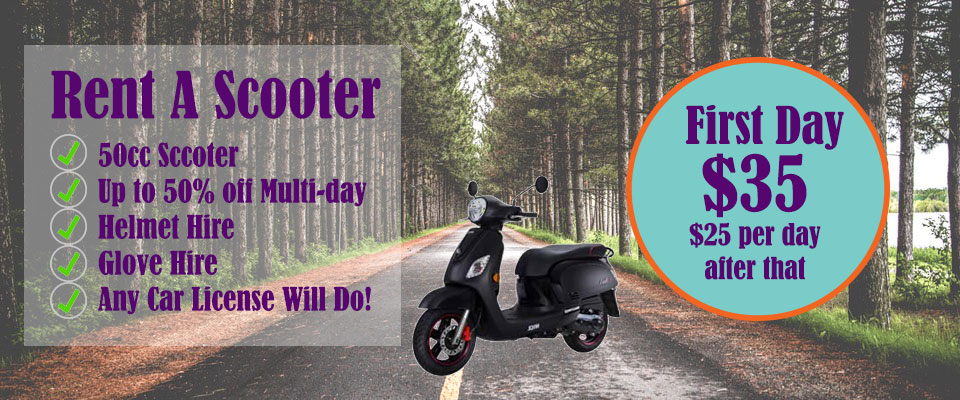 Amazing Rides around Christchurch
Take one of our scooters for hire out to one of these amazing Canterbury rides:
Riccarton Bush – The stunning forest and unique wildlife of the Riccarton Bush creates the perfect place for a day-hike. Centuries-old kahikatea trees and kiwis inhabit this magical forest just a short ride from the centre of Christchurch.
Sumner Beach – A mere half-hour drive from the city, Sumner beach is a great place to go for a day trip on a well-weather day. Take your togs & towel and scoot out for a few hours of sun, waves, and ice cream.
Taylor's Mistake – Just around the corner from Sumner beach is Taylor's Mistake. Renowned as Christchurch's top surfing location, the coastline boasts a beaut walking trail and a dramatic sunrise.
Lyttelton – The Lyttelton Harbour is an iconic Christchurch setting. Shore-side, the peaceful neighbourhood can easily soak up an afternoon, and is home to the local Farmers Market every Saturday.
Botanical Gardens – The Christchurch Botanic Gardens make for a relaxing getaway without even leaving the city! A stunning and beautifully kept display, the gardens are well worth a visit for both tourists and locals alike.
Contact us to book our scooter rental
Do you love the sound of these amazing experiences? Has reading this made you want to a hire a scooter and take it in and around the gorgeous City of Christchurch. Then we would love to hear from you
Please contact the friendly team at Scootec on 03 377 1116 or send us a message on our contact page and we will get back to you as soon as possible.